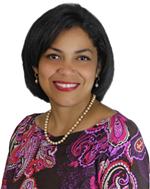 Doris De Los Santos
Executive Director of Development, Partnership & Engagement
(401) 456-9100
Doris De Los Santos serves as the Executive Director of Partnership, Development and Community Engagement for the Providence Public Schools. She is overseeing fundraising/development, family engagement and community/strategic partnerships. Before joining Providence Schools in 2012, De Los Santos was appointed as Governor Lincoln D. Chafee's director of the Office of Municipal and External Affairs. From 1992-1995, she worked at Rhode Island Housing's Lead Program and, in 1995, she joined the State Office of Housing and Communication Development, later becoming the head of the Office of Program Performance & Evaluation, where she was responsible for the oversight, evaluation, assessment, adjudication, and research of housing issues and programs for the State of Rhode Island.
De Los Santos holds many civic roles. She is an advisory member and past president of the board of directors for the R.I. Latino Civic Fund. Additionally, she is a Vice-President of the Board of Trustees of the Community Action Partnership of Providence; board member of Neighborhood Health Plan of RI; Community MusicWorks.; Family Service of R.I. and the State of R.I. Martin Luther King Commission. Additionally, she is a Governor's appointee of the State of R.I. Parole Board.
She holds a bachelor's degree in business administration, magna cum laude, from Pedro Henriquez Ureña University in the Dominican Republic and an associates' degree in general studies from CCRI, graduating with highest honors. She is currently enrolled in the Community Development graduate program at Roger Williams University. She is a graduate of Leadership for a Future and Leadership RI '08.