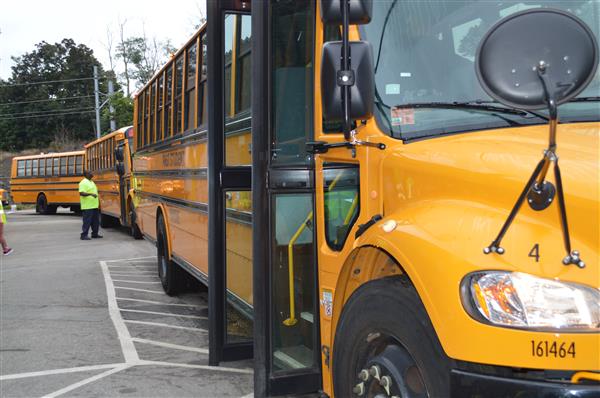 Frequently Asked Questions

First Student School Bus Service

Are First Student school bus drivers going to strike?

UPDATE: Teamsters Union bus drivers for the First Student transportation company did strike on Thursday, Sept. 27. We anticipate that the Teamsters Union bus drivers will continue to strike. We are asking all families of school bus riders to arrange for alternate transportation. Please make sure that you provide your child's school with your updated contact information and the names of adults authorized for school pick-up.

NEW: Some people are saying that school bus service will continue without interruption for students with transportation accommodations. Is that true?

Some media outlets have inaccurately reported that school bus service for students with special transportation accommodations according to IEP or 504 plans is not disrupted. This is incorrect information.

While we continue to discuss transportation options with First Student and the Teamsters, no viable plan is in place to provide alternative transportation at this writing.

Are the bus drivers employees of the district? Who owns the buses?

The Providence Public School District has contracted out its bus service for more than three decades.

First Student is an independent company that provides school bus transportation across the nation. First Student bus drivers are part of the Teamsters Union. The bus drivers are not Providence Public School District employees, nor do the buses belong to Providence Public Schools.

Will a strike affect other districts besides Providence?

In Rhode Island, contract negotiations are limited to the bus drivers whose runs originate from the Providence bus yard. A number of private and parochial schools also rely on transportation from the First Student Providence yard, as do a number of RI Dept. of Education statewide busing arrangements. If your child is not a Providence Public School student and you are concerned about a possible strike affecting your child's transportation, please contact your child's school directly.

In the event of a strike, how will my child get to and from school?

When we learned that a strike was a possibility, the district reached out to a number of transportation providers in the region. Unfortunately, there appear to be no adequate substitute transportation companies with the capacity and the willingness to provide service to the more than 9,000 students who are transported daily from the First Student's Providence bus yard. This means that we will be relying on families to arrange for their own transportation for their children. We understand that this represents a hardship for many of you, and we wish another viable solution existed.

Please know that the district will be assigning additional staff as needed to assist with arrival and dismissal at schools with the greatest school bus usage.

If I can't get my child to school on time, will he/she be penalized for being tardy?

We understand that for many families who rely on First Student transportation, personally transporting multiple students to different schools on time can be a tall order. That is why we will be flexible in enforcing our tardiness policy during a strike.

If I can't arrange to transport my child to school, will the absence count against him/her?

UPDATED: If students who normally ride a First Student bus miss school due to their inability to secure transportation, their absences will be considered excused absences through the end of this week (Friday, Oct. 5). Previously, the school district had limited the use of excused absences to the first three days of the strike.​​ Excused absences are still considered absences but they do not count toward student truancy.

If I can't arrange to transport my child to school, how can he/she make up the work?

Missed classwork, homework and tests may be made up when the strike is over.

What permissions are required for early dismissal of a child?

Any child who will be dismissed early must bring a signed note from the parent or guardian.

How will dismissal procedures change?

Dismissal will take place at the regular time.

Elementary School students who normally take a school bus will be released to an adult or family member listed on the child's emergency form. If you have not yet returned your emergency form, or if you need to add names of people with permission to pick up your child from school, please do so as soon as possible.

Middle School students who normally take a school bus may leave the building without an adult at the end of the school day only if their parents or guardians have submitted a signed permission form allowing for unaccompanied dismissal. The school will notify parents of any students who leave on their own accord and do not have permissions on file.

It is important that you notify the school of any delays or changes in your child's pickup routine.

My child is usually bused to an afterschool program. Will that continue if there is a strike?

If your child uses First Student busing to travel from school to an afterschool program, it is likely that the transportation service will be disrupted during a strike. You should reach out to your child's afterschool program to make alternative transportation arrangements.

Can I put my child on a RIPTA bus or use a ride-sharing or taxi service to transport my child?

While we are not aware of explicit rules governing the age a child must be to travel unaccompanied on Rhode Island public transportation, we ask parents to use their best judgment. When in doubt, please make sure an adult accompanies your child on a RIPTA bus.

Before calling a ride-sharing or taxi service to transport your child, you should familiarize yourself with their rules for transportation. Many will not transport a minor without an adult.

How will a strike affect field trips?

When a strike occurs, all field trips requiring school bus service will be canceled.

Will the strike affect athletics?

As we will not have transportation available, we will be cancelling all middle school sports during a strike. High School athletes should check in with their coaches regarding revised practice and game schedules.

NEW: Will the Teamsters be picketing at my child's school?

We have heard from many parents who are concerned that the Teamsters may be picketing schools during the strike. The superintendent personally asked Teamsters' representatives about this, and the Teamsters told him that they have no plans to picket our schools at this time.

NEW: How will I know if the strike is canceled?

We will alert families of a strike's cancellation through ParentLink telephone calls, social media, our website and news media.

Call our information line for the latest info on school bus transportation: 401-919-5271.

Whom do I contact for more information?

We will be updating this FAQ as we learn more information. For general questions, please call one of the following:

Customer service: (401) 456-9100 x13122
Family and Community Engagement: (401) 456-0686
Transportation: (401) 456-9269

You may also email questions@ppsd.org. Questions about make-up work will be handled at the school level.
Preguntas y Respuestas

Servicio de Autobuses Escolar First Student

¿Se va a realizar una huelga por parte de los conductores de autobuses escolares de First Student?

INFORMACIÓN ACTULIZADA: El sindicato de los choferes de autobuses que sirven a la empresa de transporte First Student empezó su huelga el jueves, 27 de septiembre. Anticipamos que el sindicato de choferes de autobuses continuará la huelga. Le pedimos a las familias que utilizan el servicio de transporte escolar hacer arreglos de transporte alternativos. Por favor, asegúrese de brindarle a la escuela información de contacto actualizada y los nombres de las personas autorizadas para recoger a los estudiantes.

NUEVO: Algunas personas están diciendo que el servicio de autobús escolar continuará ininterrumpidamente para los estudiantes con acomodos de transporte. ¿Es cierto?

Algunos medios de comunicación están informando de manera inexacta que el servicio de autobús escolar para estudiantes con acomodos especiales de transporte conforme a su Programa Educativo Individualizado o planes 504 no se verá interrumpido. Esta información es incorrecta.

Mientras seguimos discutiendo opciones de transporte con First Student y el sindicato de choferes de autobuses escolares, no existe un plan viable para proporcionar transporte alternativo al momento de escribir este escrito.

¿Son los choferes de los autobuses empleados del distrito? ¿Quién es el dueño de los autobuses?

El Distrito Escolar Público de Providence ha contratado a su servicio de autobuses por más de tres décadas. First Student es una compañía independiente que proporciona transporte en autobuses escolares en todo el país. Los choferes de autobuses de First Student son parte de un sindicato de choferes conocido como Teamsters. Los choferes de autobuses no son empleados del Distrito Escolar Público de Providence, ni los autobuses pertenecen a las Escuelas Públicas de Providence.

¿Afectará esta huelga a otros distritos?

En Rhode Island, las negociaciones contractuales se limitan a los conductores de autobuses cuyas corridas se originan en la central de autobuses de Providence. Varias escuelas privadas y parroquiales también dependen del transporte situado en la central de autobuses de First Student en Providence, al igual que un número limitado de arreglos de autobús en todo el estado. Si su hijo(a) no es estudiante de las Escuelas Públicas de Providence y le preocupa una posible huelga que afecte el transporte de su hijo, comuníquese directamente con la escuela de su hijo.

¿En caso de una huelga, cómo se transportará mi hijo a y desde la escuela?

Cuando supimos que era posible una huelga, el distrito se comunicó con varios proveedores de transporte en la región. Desafortunadamente, parece que no hay compañías de transporte sustitutas adecuada con la capacidad y la disposición para brindar servicios a los más de 9,000 estudiantes que son transportados diariamente desde la central de autobuses de First Student en Providence. Esto significa que dependeremos de las familias para organizar su propio transporte para sus hijos. Entendemos que esto representa una dificultad para muchos de ustedes, y deseamos que existiera otra solución viable.

Tenga en cuenta que el distrito asignará personal adicional según sea necesario para ayudar con la llegada y salida en las escuelas con el mayor uso de autobuses escolares.

¿Si no puedo llevar a mi hijo a la escuela a tiempo, ¿será penalizado por llegar tarde?

Entendemos que para muchas familias que dependen del transporte de First Student, el transportar personalmente a varios estudiantes a diferentes escuelas a tiempo puede ser una tarea difícil. Es por eso que seremos flexibles en la aplicación de nuestra política de llegadas tarde si los conductores de autobuses realizan una huelga.

¿Si no puedo hacer los arreglos para transportar a mi hijo a la escuela, la ausencia contará en su contra?

INFORMACIÓN ACTULIZADA: Si los estudiantes que normalmente viajan en un autobús escolar de First Student a la escuela están ausentes debido a que no pudieron conseguir transporte alternativo, sus ausencias se considerarán ausencias justificadas hasta el final de esta semana (viernes, 5 de octubre). Anteriormente, el distrito escolar había limitado el uso de ausencias justificadas a los primeros tres días de la huelga. Las ausencias justificadas aún se consideran como ausencias pero no cuentan como ausencia injustificada el estudiante.

¿Si no puedo realizar arreglos para transportar a mi hijo a la escuela, ¿ cómo podrá reponer sus trabajos?

El trabajo de clase, la tarea y los exámenes que se hayan perdido pueden reponerse cuando se termine la huelga.

¿Qué permisos se requieren para la salida temprana de un estudiante?

Cualquier niño que salga de la escuela más temprano debe traer una nota del padre o guardián.

¿Cómo cambiaran los procedimientos de salida de los estudiantes?

La salida de estudiantes se llevará a cabo en su horario regular.

Los estudiantes de la escuela primaria que normalmente toman un autobús escolar serán entregados a un adulto o miembro de la familia que figura en el formulario de emergencia del niño. Si aún no ha devuelto su formulario de emergencia, o si necesita agregar nombres de personas con permiso para recoger a su hijo de la escuela, hágalo tan pronto como sea posible.

Los estudiantes de escuela intermedia que normalmente toman un autobús escolar pueden salir del edificio sin un adulto al final del día escolar solo si sus padres o tutores han presentado un formulario de permiso firmado que permite el despido sin acompañante. La escuela notificará a los padres de los estudiantes que se van por su propia cuenta y no tienen los permisos en sus archivos.

Es importante que notifique a la escuela de cualquier tardanza o cambios en la rutina para recoger a su estudiante.

Por lo general, a mi hijo se le transporta a un programa después de clases. ¿Esto continuará en caso de una huelga?

Si su hijo utiliza el transporte de First Student para viajar de la escuela a un programa después de clases, es probable que el servicio de transporte se interrumpa durante una huelga. Debe comunicarse con el programa extracurricular de su hijo para hacer arreglos de transporte alternativos.

¿Puedo poner a mi hijo en un autobús RIPTA o usar un servicio de taxi o transporte compartido para llevar a mi hijo?

Si bien no sabemos de reglas explícitas que rigen la edad que debe tener un niño para viajar sin compañía en el transporte público de Rhode Island, les pedimos a los padres que utilicen su mejor juicio. En caso de duda, asegúrese de que un adulto acompañe a su hijo en un autobús RIPTA.

Antes de llamar a un servicio de transporte compartido o taxi para transportar a su hijo, debe familiarizarse con sus reglas de transporte. Muchos no transportan a un menor sin un adulto.

¿Cómo afectará la huelga las excursiones escolares?

Si ocurriera una huelga, todas las excursiones escolares que requieran de servicios de autobuses serán canceladas.

¿Se verán afectados los deportes debido a la huelga?

Como no tendremos transporte disponible, cancelaremos todos los deportes en las escuelas intermedias durante una huelga. Los atletas de la escuela secundaria deben consultar con sus entrenadores con respecto a revisiones de los horarios de prácticas y juegos.

NUEVO: ¿Cómo sabré si la huelga se cancela?

Notificaremos a las familias sobre la cancelación de la huelga a través de las llamadas telefónicas de ParentLink, las redes sociales, nuestro sitio web y los medios de comunicación.

Llame a nuestra línea de información para obtener la información más reciente sobre el transporte en autobús escolar: 401-919-5271.

¿Con quién me comunico para obtener más información?

Estaremos actualizando este documento en cuanto sepamos más información. Para preguntas generales, por favor llame:

Servicio al cliente: (401) 456-9100 x13122

Participación Familiar y Comunitaria: (401) 456-0686

Transporte: (401) 456-9269

También puede enviar sus preguntas a questions@ppsd.org. Preguntas sobre cómo reponer los trabajos escolares se realizaran a nivel escolar.