Mayor Jorge O. Elorza & Providence Public Schools invite you to the
Summer of Learning Expo 2017
Saturday, April 29, 2017
10 a.m - 1 p.m.
at the Providence Carrer and Technical School
41 Fricker St. Providence 02903
Exhibitors include:
Artists' Exchange, Autism Project, Beat the Streets Providence, BELL (Building Educated Leaders for Life), Books Are Wings, Breakthrough Providence, Brown University (Department of Education), Brown University/ICERM, Connect2Compete and Cox Communications, DownCity Design, Festival Ballet Providence, Generation Teach Inc., Girl Scouts of Southeastern New England, Girls Rock! Rhode Island, Jayce the Healer Foundation, Lincoln School, Moses Brown School, Mt. Hope Learning Center, Partnership for Providence Parks, Providence After School Alliance, Providence CityArts for Youth, Providence College School of Continuing Education, Providence Community Library, Providence Department of Parks and Recreation, Providence Parks Urban Wildlife Refuge Partnership, Providence Public Library, RED Shed, Rhode Island Museum of Science and Art (RIMOSA), Roger Williams Park Zoo, Spring Of Life Church/Iglesia Manatial de Vida., St. Andrew's School, Steel Yard, University of Rhode Island, United Way 2-1-1, YMCA of Greater Providence, YWCA Rhode Island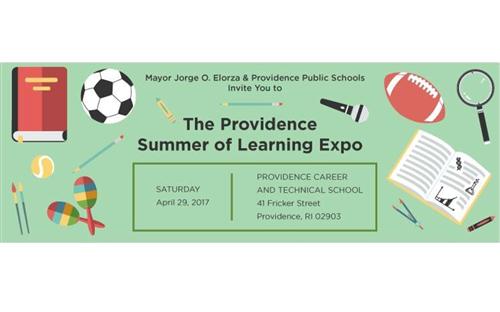 El Alcalde Jorge O. Elorza y las Escuelas Publicas de Providence le invitan a
El Expo de Aprendizaje de Verano de Providence 2017
Sabado, 29 de Abril, del 2017
10 a.m - 1 p.m.
en Providence Carrer and Technical School
41 Fricker St. Providence 02903
Exhibidores:
Artists' Exchange, Autism Project, Beat the Streets Providence, BELL (Building Educated Leaders for Life), Books Are Wings, Breakthrough Providence, Brown University (Department of Education), Brown University/ICERM, Connect2Compete and Cox Communications, DownCity Design, Festival Ballet Providence, Generation Teach Inc., Girl Scouts of Southeastern New England, Girls Rock! Rhode Island, Jayce the Healer Foundation, Lincoln School, Moses Brown School, Mt. Hope Learning Center, Partnership for Providence Parks, Providence After School Alliance, Providence CityArts for Youth, Providence College School of Continuing Education, Providence Community Library, Providence Department of Parks and Recreation, Providence Parks Urban Wildlife Refuge Partnership, Providence Public Library, RED Shed, Rhode Island Museum of Science and Art (RIMOSA), Roger Williams Park Zoo, Spring Of Life Church/Iglesia Manatial de Vida., St. Andrew's School, Steel Yard, University of Rhode Island, United Way 2-1-1, YMCA of Greater Providence, YWCA Rhode Island