E CUBED ACADEMY HIGH SCHOOL
SENIOR PRESENTATIONS SCHEDULED FOR FRIDAY, MAY 17 AND FRIDAY, MAY 24. ALL SENIORS MUST BE IN SCHOOL ON THEIR SCHEDULED PRESENTATION DATE. PLEASE SEE MR. JOHNSON FOR MORE DETAILS OR CONTACT michael.johnson@ppsd.org
2019 SATURDAY SCHOOL
"TURN IT AROUND SATURDAYS"
PERSONALIZED LEARNING MODEL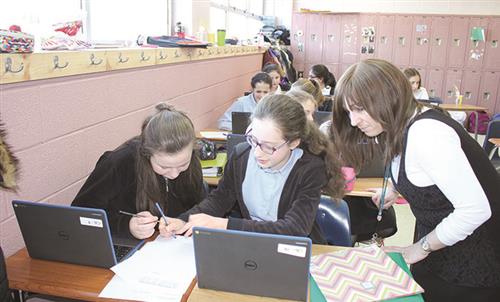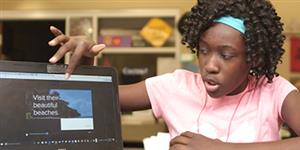 IF YOU ARE BEHIND IN YOUR FOCUS AREAS, MANDATORY SATURDAY SCHOOL IS IN SESSION FOR YOU. IF YOU ARE "ON TRACK", YOUR ATTENDANCE IS VOLUNTARY.
SI USTED ESTA ATRASADO EN TUS AREAS DE ENFOQUE, LA ESCUELA OBLIGATORIA DE SABADO ESTA EN SESION PARA USTED. SI VAS POR "BUEN CAMINO", SU ASISTENCIA ES VOLUNTARIA.
TIME: 9 A.M. – 1 P.M.
DATES: April 6, April 27, May 4, May 11, May 18, May 25, June 1,
June 8, June 15
Financial Literacy Series and Parent Workshops


April 25, 2019


Understanding Your Credit Score - Room 150
5:30 p.m. - 7:00 p.m.

May 17, 2019
Learn How To Create A Budget With Excel Spreadsheet
5:30 p.m. - 7:00 p.m. - Computer Lab 132


For more information: Regina Winkfield at regina.winkfield@providenceschools.org or call 401-456-0694
Student Choice and Student Voice
"When we set our own goal and we reach it, it makes you feel awesome. I'm pushing myself more to do better and to master it. I know if I set that goal, I have to get it done on time."
—Sarah Keith, 9th Grade, E-Cubed Academy

Click on the link below to find out more!
The mission of E Cubed Academy High School is to create a vibrant student-centered community that will eliminate all barriers to learning, thus capitalizing upon the academic, social and civic potentials of all learners.
Principal Welcome Letter: Click Here
2018-2019 Bell Schedule: Click Here
SCHOOL COUNSELOR
STUDENT CASELOAD CHANGES (New 2018-2019 School Year )
School counselors have been assigned student caseloads by first letter of last name. If you need assistance with your schedule, please contact counselor assigned to you as follows:
Ms. Brunache - All students with last name beginning with letters A-M
Melanie.NoblesBrunache@ppsd.org

Ms. Taing - All students with last name beginning with letters N-Z including seniors graduating in class of 2019
lin.taing@ppsd.org
PARKING POLICY: If one of our scholars drive to school, they must meet the parking guidelines to park a car on campus. Each car will receive a parking pass. This pass can be revoked if students do not follow the guidelines. Student drivers must show proof of driver's license, insurance and registration to park on school property. Any student who drives to school and parks on school property, must complete an application and have a sticker applied to their lower left windshield. Students will be assigned a parking spot in the upper parking lot. Go to main office for assistance.
Attention Sophomore all Parents: Your student is required to PARTICIPATE in Collegeboard assessments --The 10th grade PSAT on April 10, 2019. There is no cost for the assessment and the school must meet its 95% participation rate. Those results will be discussed with students in their mentor groups through a student conferencing format. Students will use Khan Academy to ramp up on any skill deficits in Reading, Writing and Math in preparation for the assessment.
Sincerely,
Principal Winkfield